India's Top Ranked Best Housekeeping Services Company in Delhi & NCR
For Quick Response Call +91 9582676039
Get Instant Online Quotation
Welcome to Shreem Facility Management, where quality meets perfection. We understand the frustration of struggling to find the best housekeeping services company in Delhi ncr that will not only fulfil your particular needs but also maintain and clean the environment in the years to come. The modernization of your experience and maintaining the perfection of your places are our top priorities at Shreem Facility Management Services.
Our duties of housekeepers in an apartment, hospital, shopping mall, busy office building, or luxury hotel include thorough cleaning that involves dusting, vacuuming, sweeping, and mopping the floors in every corner of the premises. We believe that maintaining a perfect environment is important for all. By transforming your spaces into stunning spaces with a dedication to perfection and a customer-focused approach.
Our commitment to excellence addresses your pain points, ensuring your buildings are cared for to the highest standards. Let's be with us to learn more about how we stand out from the competition in the facilities management industry with our customised housekeeping field, solutions, skilled personnel, cutting-edge machinery, and eco-friendly efforts.
We are ranked as top housekeeping management company in Delhi and offer innovation-based integrated facilities management services and solutions in Delhi and NCR (Noida, Greater Noida, Gurgaon, Faridabad, and Ghaziabad).
Housekeeping for Corporate World
First impressions has a major effect in the corporate world. Office buildings' exterior, interior design, Display a company's mission and culture. Our housekeeping services for office building are carefully Managed your Busy environment to the highest standards in order to maintain first impression. 
We not only contribute to the well-being of employees but also ensure that guests and clients experience smooth transitions within the space. as maintaining a sanitary environment is paramount for employee health and productivity.
Your office must be handled with professionalism and efficiency; therefore, attention is necessary on following points:
Maintenance of elevators and escalators, ensuring seamless operation.
periodic care of common areas, such as lobbies, stairwells, and hallways.
cleaning of the walls, windows, and outer facade of the business headquarters.
Deep cleaning of interior spaces, including offices, restrooms, and common rooms
Waste management that are effective and responsible to keep your company tidy and organised.
HVAC issues, troubleshooting, and repair services
Housekeeping for Apartments
Housekeeping services for apartment buildings are a must because a single mistake will affect any of the residents' families, which are not on the safety side of the apartments.
Building exteriors are cleaned to keep them hygienic, attractive, and structurally maintained to give residents a comfortable and secure living environment. In common areas, halls, stairs, lifts, parking areas, and lobby areas are kept clean. 
Our facility management housekeeping services for Apartments buildings Each unit has an entire cleaning of the communal areas to maintain a high standard of comfort and hygiene.
Cleaning of the apartment building's exterior surfaces, including walls, common area, parking area, stairs, walkways, and playing ground.
Routine upkeep and cleaning of elevators to ensure safe & reliable functionality for residents.
Regular monitoring of waste generation patterns for timely adjustment of disposal methods.
Inspection and replacement of worn-out components to enhance safety and longevity
Housekeeping for Hospitals
We offer pure spaces of healing where each heartbeat matters and each breath has value. We are aware of the huge housekeeping responsibility that goes along with running a hospital. Cleaning is important, but in order to create a sense of hygiene, comfort, and hope.
Our facility management for housekeeping services goes beyond simply getting right to the core of your organisation to make sure that every space, including patient rooms, ICUs, doctor cabins, halls, and buildings breathes with kindness and wellbeing.
Contact us and watch as your hospital transform into a wonderful haven of health and healing with our best housekeeping facility management services.
Maintenance of corridors, waiting areas, and entrances for a clean environment.


Expert handling and cleaning of biohazardous materials, including blood, bodily fluids, and medical waste management.

Elevators serving critical patient areas require specialized maintenance and cleaning to safe and reliable transportation.

High-pressure washing or chemical cleaning of the Hospital building's facades to remove dirt, germs, and pollutants.
HVAC issues troubleshooting and repair services.
Remember that what's required of the guests come first.  Improve the experience of your visitors with perfect cleanliness and efficient operations. Every detail is carefully maintained, from spotless entrance to beautifully kept receptionist . 
Our knowledgeable staff makes certain that your hotel delivers a warm atmosphere that will leave a long-lasting mark on those who stay there. Put your trust with Shreem for a seamless combination of comfort and luxury that defines your business. 
Choose Shreem IFM housekeeping services for a really exceptional hospitality experience and improve your standards.
Exterior cleaning including entrances, facades, and windows, to create a welcoming ambiance.
Cleaning of guest rooms, lobbies, halls, and reception to ensures a comfortable and hygienic stay.
Elevator maintenance is essential to provide guests with seamless access to their accommodations.
Trash management is handled efficiently to maintain a clean and inviting atmosphere.
HVAC issues troubleshooting and repair services.
You are investing in more than just housekeeping when you work with Shreem; you are investing in the heart and soul of your mall, where dreams come true and memories are created.
Together, we'll turn your location into an exciting wonderland where each customer is treated like a valued guest. Our staff ensures that every business gleams, every corridor welcomes, and every public place creates an inviting attraction by bringing energy, accuracy and a touch of artistry to every corner. 
We take great care to create a memorable shopping and entertainment experience, even to the spotless floors and shining storefronts.
Exterior cleaning of malls, including facades and common areas.
Individual stores, public restrooms, and eating areas cleaning to ensure a fresh customer experience.

Elevator and escalator maintenance is essential to keep shoppers and visitors moving smoothly. 

Trash management is conducted efficiently to maintain a clean and inviting atmosphere.
HVAC issues troubleshooting and repair services.
Building Exterior & Interior Cleaning​
Escalators and elevators services
Facade Cleaning services​
Hygiene & Biohazard Services
Trash Management Services
Lobby and Reception Area Cleaning
Horticulture/Gardening Services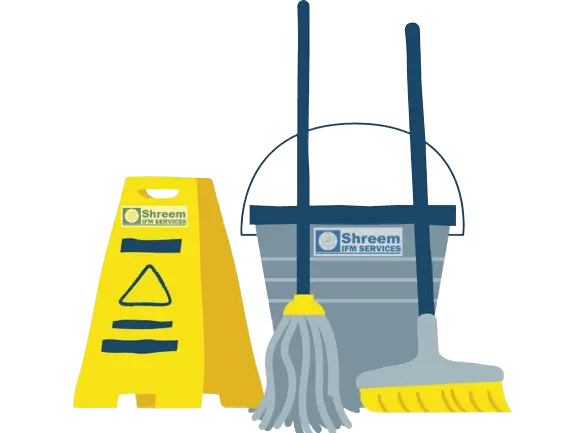 Join us to discover how we are competing in the facilities management industry for housekeeping services. We do so with tailor-made solutions, a team of skilled professionals, state-of-the-art machinery, and a steadfast commitment to eco-friendly practises.
At Shreem, we're not just providing only services;

We're crafting experiences, setting new benchmarks, and reshaping the landscape of facility management. Welcome to a new era of excellence. Welcome to Shreem Integrated Facility Management.
For Quick Response Call +91 9582676039
Get Instant Online Quotation
Please call / write an email to get a site visit done by our expert technocrats free of cost
For Quick Response Whatsapp / Call : +91 9582676039